The other day we were doing a little late-night inventory, dutifully counting our wares, under the watchful eye of one of our most discerning customers. For the purpose of this post we will call him "Joe," because that is his name.
Joe was listening to us count different shelves, and as we did, he kept exclaiming: "What the hell is that?" and "Wait, how many vermouths do you have?" It occurred to us that we have a ton of tasty libations that even our most traveled friends have never experienced. With that in mind, we have decided to do a little blog series of our favorites. We will start with whiskey, and future episodes will feature other categories of deliciousness.
Hand + Foot offers more than 100 whiskeys, so as we look to spotlight our favorites, we will put them into four sub-categories: Bourbon, Rye, Single Malt, and High Proof. We will also introduce a concept we're calling "High Proof and the Smart Stomach Theory."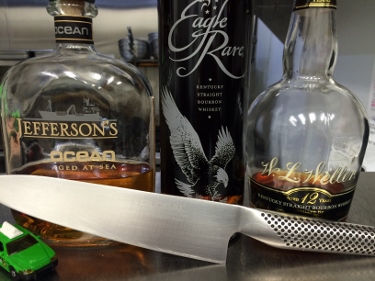 BOURBON
Bourbon is a spirit distilled from a mash bill of at least 51% corn, made in the United States, and aged in new charred oak barrels. Contrary to popular belief, bourbon is not required to be from Bourbon County, Kentucky, and can, in fact, be made anywhere in the US. In the interest of fairness, we organize our menu with the Kentucky bourbons in one group (giving credit where credit is due…).
Eagle Rare 10 Year: Many bourbon drinkers are familiar with Buffalo Trace…this offering is effectively 10-year-old Buffalo Trace. 90 proof. $6 single / $10 double. Light, classic, hot, woody-green underbrush, sappy, a serious value in the 10-year category.
W. L. Weller 12 Year: So you have heard of Pappy Van Winkle, have you? Well, one of the details that distinguishes Pappy from the bourbon field is wheat. Pappy is a wheated bourbon. Weller is made by the same company in the same stills as Pappy; it is aged in the same rack house and it bears the label "The Original Wheated Boubon." 'Nuf said? 90 proof. $7 single / $11 double. Nutty caramel, creamy, warm, nougat, toasted green seeds, pumpkin. Dry-grass and clover. Very smooth and regal 12-year offering.
Jefferson's "Ocean" Aged at Sea: When we got this bottle, we desperately wanted to call bullshit on it. It just seems so gimmicky. Select barrels are put into containers and sent around the world on a research vessel. The idea being the constant motion will increase the whiskey's contact with the barrel and expedite the aging process. Also, the ocean air will interact with the whiskey. But bullshit, this is not. 90 proof. $12 single / $18 double. Salted caramel, background of kelp, not barnyard but wharf, integrated, incredibly smooth, briny, hint of smoke. Reminiscent of young, unpeated Scotch.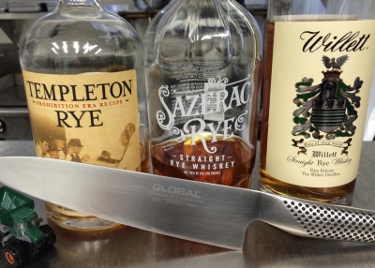 RYE
Most of the same rules for bourbon apply, but in this case, the mash bill must be more than 51% rye.
Templeton Small Batch Rye: This guy, from Iowa, was allegedly Al Capone's favorite whiskey. We can't necessarily back that up, but when it comes to rye this one was our prom date, our first love, an introduction which never truly leaves your memory. 80 Proof. $7 single / $12 double. Granny purse, rose petals, perfume, leather, big league chew, spicy, layered, sweet, rich, elegantly smashable.
Willet 2 Year Kentucky Rye: If we had just one word for this one it would be "quixotic." This very young drink journeys all over the place. Searching, brash, stormy, naive, drunk—it makes the head spin. Somehow though, everything ends up pulled together and packaged into a truly honorable, chivalrous, and life-affirming libation. 111.8 proof. $6 single / $10 double. Raw coffee, peppercorn, Bubblicious, caramel, dry grass, distant brush fire, grape, plum, sap, cilantro, Old Bay and on and on…
Sazerac Straight Rye Whiskey: Also from Kentucky, this is an extremely sought after and highly regarded rye. 90 proof. $7 single / $12 double. Very clean, sweet peppermint, candy shop, lumberyard, mouthwatering, unctuous, hay loft, menthol. Lives up to the hype.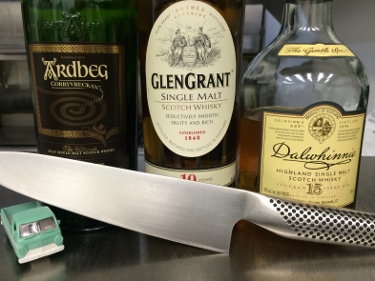 SCOTTISH SINGLE MALT
Whiskey distilled in Scotland from nothing but water and malted barley and matured in oak casks for no less than three years.
Glengrant 10 Year: At the entry level price point, accept no substitutes. This single malt is very highly regarded and rightfully so. 80 proof. $7 single / $11 double. Fresh plum skin, boggy, light and effortless. Elements of all things Scotland (brine, peat, smoke). Possessing a singular regality.
Dalwhinnie 15 Year: This one is so unexpected, we love it! 86 proof. $10 single / $16 double. Dried flowers and dewy hayfield, wet stone minerality, barnyard, leather, lanolin. Strangely enough, this guy is reminiscent of top-end Chardonnay from Chablis.
Ardbeg "CorryVreckan" Islay Single Malt: Named after a whirlpool off the Islay coast, and allegedly "the peatiest" of the Islay single malts, this is a barnburner. 114.2 proof. $12 single / $19 double. Like a cadre of mechanics fighting a forest fire. Big, rich, unctuous, tempestuous, mouth-filling, and all the peat and smoke you can ask for. Even with all the funk it still maintains excellent balance and maturity.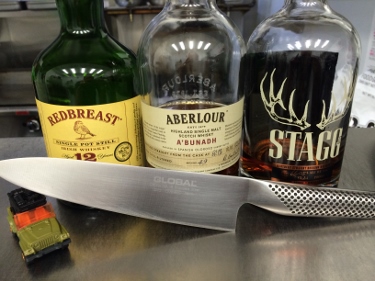 HIGH PROOF SELECTIONS, AND THE SMART STOMACH THEORY
We find when drinking high-proof whiskeys that the euphoria they create is so much more complete than their lower-proof brethren, and we've always wondered why.  Recently we learned some interesting things about the stomach and its nervous system called the Enteric Nervous System (ENS), and our gears started turning…
All boiled down, "the gut can work independently of any control by the brain in your head—it's functioning as a second brain," according to Michael Gershon, professor and chair of pathology and cell biology at Columbia. "It's another independent center of integrative neural activity." (This is according to an article published here in Psychology Today, 2012.)
The article also says: "With an astonishing 100 million neurons—more than in the spinal cord but a lot fewer than in the brain—arrayed over an intricately folded surface area more than a hundred times greater than that of your skin, he has found, the ENS can work all on its own, without any input from the brain, to control the movement and absorption of food throughout the intestines. No other organ can call its own tune without the baton of that conductor who stands on the pedestal above the neck."
And, not only can the ENS control its own function, it can communicate directly back to the big boss about how you should feel. The article explains: "It also sends signals north to the brain that directly affect feelings of sadness or stress, even influence memory, learning, and decision-making. It relies on, and in many cases manufactures, more than 30 neurotransmitters, including serotonin, that are identical to those in the brain."
Got it? OK, so here is where the guessing begins. We think the reason for that high-proof extra euphoria is our wonderful stomach-brains. High-proof booze hits you in the stomach as well as the head, so they create a whole body buzz, which is damn rewarding. We think those 100 million neurons might have something to do with it. If you would also like to research this theory, you certainly can't go wrong with any of the following:
Redbreast Single Pot Still 12 Year Cask Strength Edition, Ireland: 116.4 proof. $15 single / $21 double. Green grass, brown sugar, coffee house, wet pebbles, searing, mouth coating, numbing, toasted, herbal. By far our favorite Irish whiskey.
Aberlour "A'Bunadh" Oloroso Finnish Highland Single Malt, Scotland: 120.2 proof. $13 single / $20 double. Chocolate-covered raisins and coffee beans, cappuccino, sugared plums, sweet cream, mint, maple forest floor. Just barely hints of smoke and peat interwoven well into the background. Fundamentally delicious in every way. Extraordinary.
Stagg Jr. Barrel Proof Kentucky Straight Bourbon, United States: 132.1 proof. $7 single / $11 double. Ginger snap, paint store, walnut, almond, fiery, green tea, sugar in the raw, maple icing, bare-knuckled and unapologetic. This limited release will bloody your nose and break your heart and follow you home to sing in your yard.
Stay tuned for future "Let's Talk Favorites" on gin, rum, amaro, vermouth, tequila and mezcal, etc….

Source: Old H+F Blog